You don't have to go to Napa and Sonoma to find remarkable wineries. Northern Virginia has a great selection that spans various locations and begins just 40 minutes outside of Washington, D.C. by car. Wine tasting is a delightful pastime that will teach you about the region's vineyards and wines, all in the midst of the most breathtaking hillsides. With this in mind, let's take a closer look at some of the best wine-tasting experiences in Northern Virginia.
Greenhill Vineyards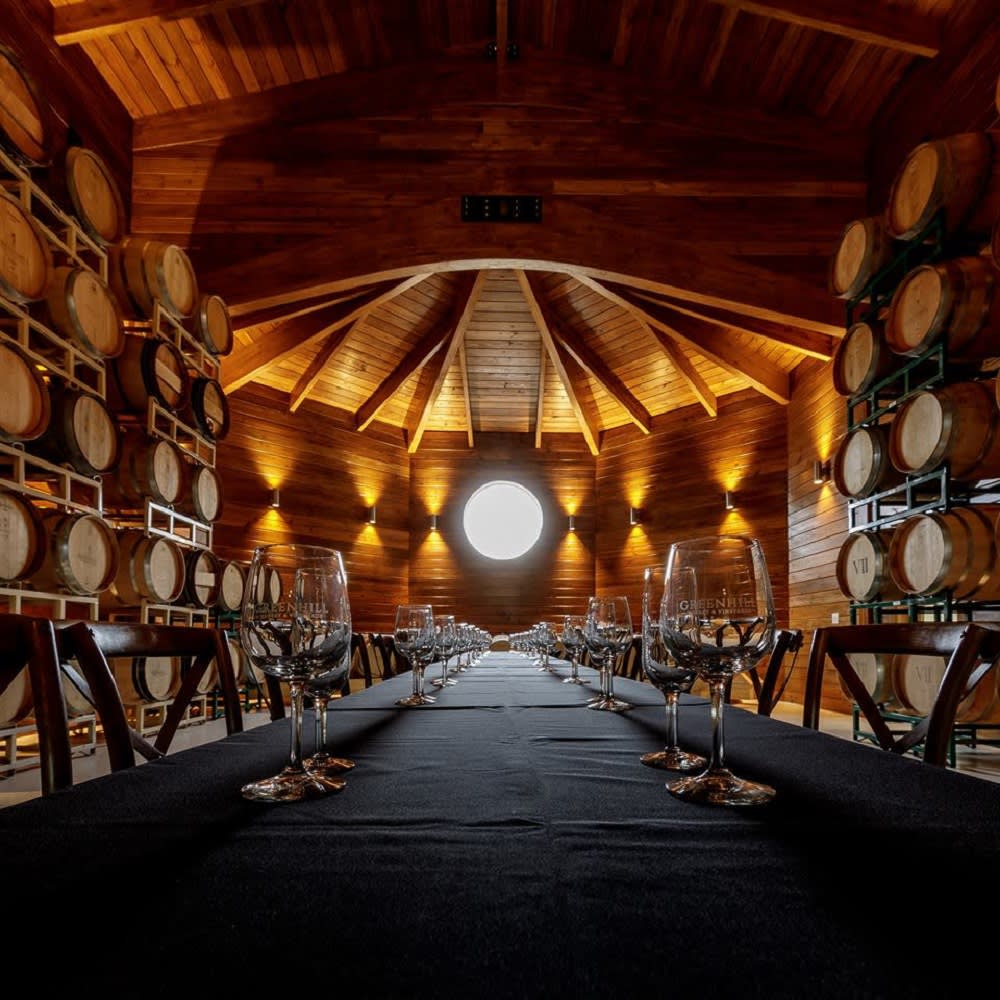 Photo courtesy of Visit Loudoun
Experience the best winery in North Virginia at Greenhill Vineyards, an award-winning winery in the charming town of Middleburg that's passionate about hospitality, appreciating nature, and exemplifying everything that makes Wine Country so extraordinary. With beautiful views of the Blue Ridge Mountains, it's no wonder why Greenhill Vineyards is so popular. In fact,
Michael Sheridan
gives Grenhill's Blanc de Blancs to all of his clients as closing gifts when they find the perfect
Northern Virginia home
, so you can trust his rave reviews of Greenhill's exceptional wines!
Greenhill Vineyards is an adults-only winery that is very popular on the weekend, so make sure you and your guests book in advance! Their acclaimed tasting room is open every day, while the club house is only open on the weekend. Make sure you book your next private event on their lush grounds.


You can also make your passion for their amazing reds, whites, and varietals a more routine affair by joining their
wine club
! Whether you decide to become a bi-monthly, quarterly, or annual member, you're guaranteed discounts on wine bottle purchases, exclusive access to members-only club areas, complimentary tastings during every visit, and invitations to release parties and other special events. They also have an extensive
online store
, so even if you're not currently in the wondrous foothills of Northern Virginia, you can enjoy your favorite Greenhill wines whenever you want!
Sunset Hills Vineyard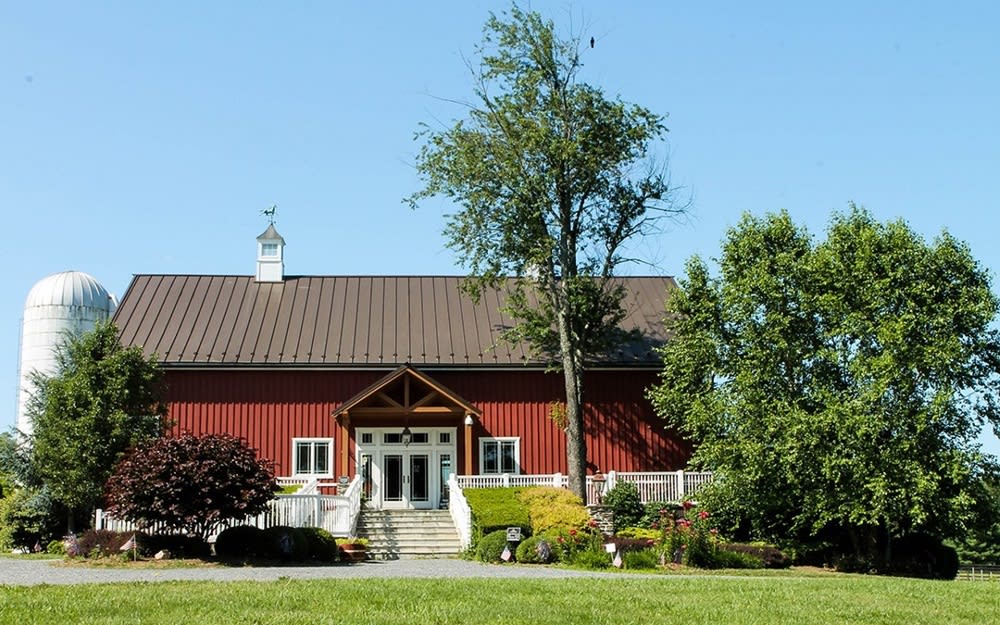 Photo courtesy of Sunset Hills Vineyard
Sunset Hills Vineyard
, which formerly operated as a working Amish farm, offers Old World charm with breathtaking sunsets and mountain vistas, lots of space to spread out, and a stunningly restored Amish barn surrounded by lovely vines. Sunset Hills welcomes kids; however, they must always be under adult supervision when visiting. Dogs are also permitted at the vineyard on the outside decks, grass, and Stone Pavilion. With the exception of support animals, dogs aren't allowed in the tasting room. Please be sure to keep your dog with you on a leash at all times.
Paradise Springs Winery
Photo courtesy of Paradise Springs Winery
Claimed as the first vineyard in Fairfax County and the closest to the nation's capital,
Paradise Springs Winery
is located in the hamlet of Clifton, Virginia, next to the Bull Run River. This small, family-run vacation winery offers tours, wine tastings, and much more. View their collection of award-winning, handmade Virginia wines ranging from white to red, rosé, sparkling, and dessert varietals. These wines are among the 12,000 cases Paradise Springs produces each year.
Walsh Family Wine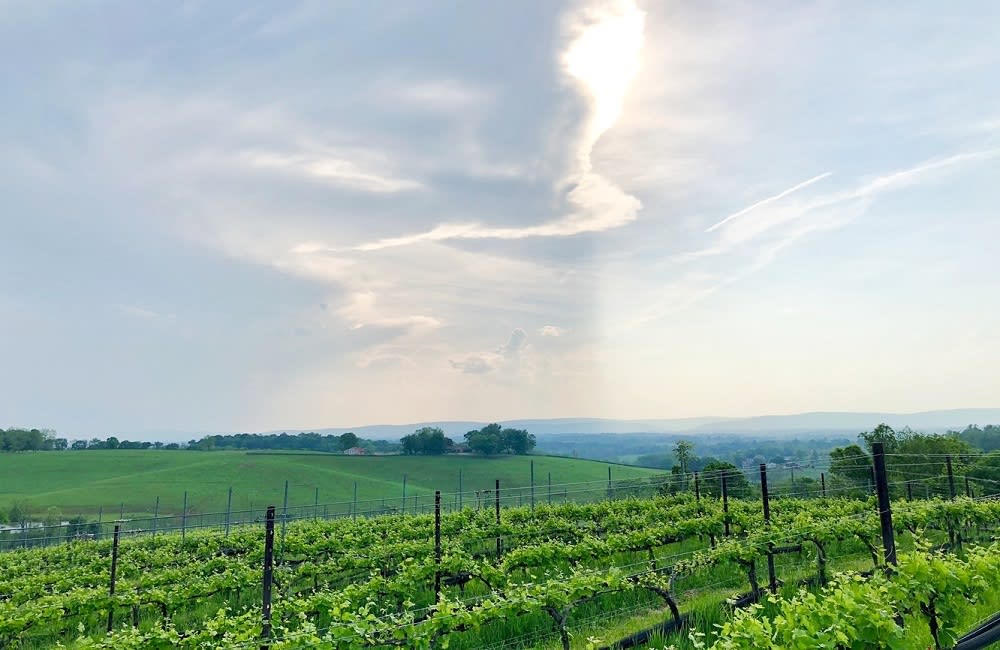 Photo courtesy of Walsh Family Wine
Walsh Family Wine
is a treasure of the Loudoun County highlands. Without a doubt, it's one of the most popular vineyards in the whole state. Most of the wine produced by this family-run boutique winery costs less than $35 a bottle, which is competitively priced for the region. Their red blends are quite remarkable, and they offer a fantastic selection of both white and red wine to suit any crowd. As well, the tasting room is cozy and beautifully decorated, and the service is stellar. Nate Walsh, Walsh Family Wine's winegrower, has numerous years of expertise in the Virginia wine industry. In order to foster a sense of community, Walsh Family Wine collaborates with other wineries in the area.
Bluemont Vineyard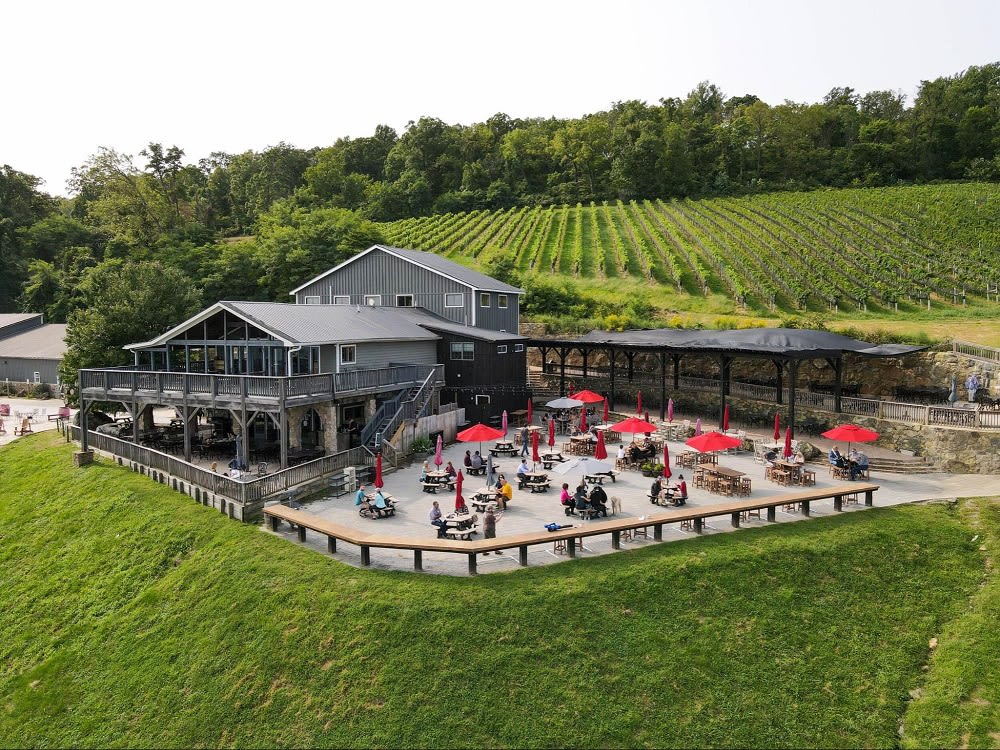 Photo courtesy of Bluemont Vineyard
Bluemont Vineyard
is where excellent wines meet breathtaking vistas. Come to their farm winery at the foot of the Blue Ridge Mountains, where countless options to discover Northern Virginia Wine Country await.
The 951 Tasting Room offers tastings and events for the whole family and is nestled 951 feet above sea level on the first ridge of the Blue Ridge Mountains, boasting panoramic views of the stunning Loudoun Valley. Enjoy a glass of your favorite wine while gazing out at the sprawling orchards, the family farm below, and the lush vines that cling to the sun-kissed slope.


Their wines are genuinely distinctive from others from Virginia vineyards due to their region. Guests 21 years of age or older are invited to The Reserve at Bluemont Vineyard to retreat and discover must-do wine tastings showcasing the art of both domestic and international vintners.
Early Mountain Winery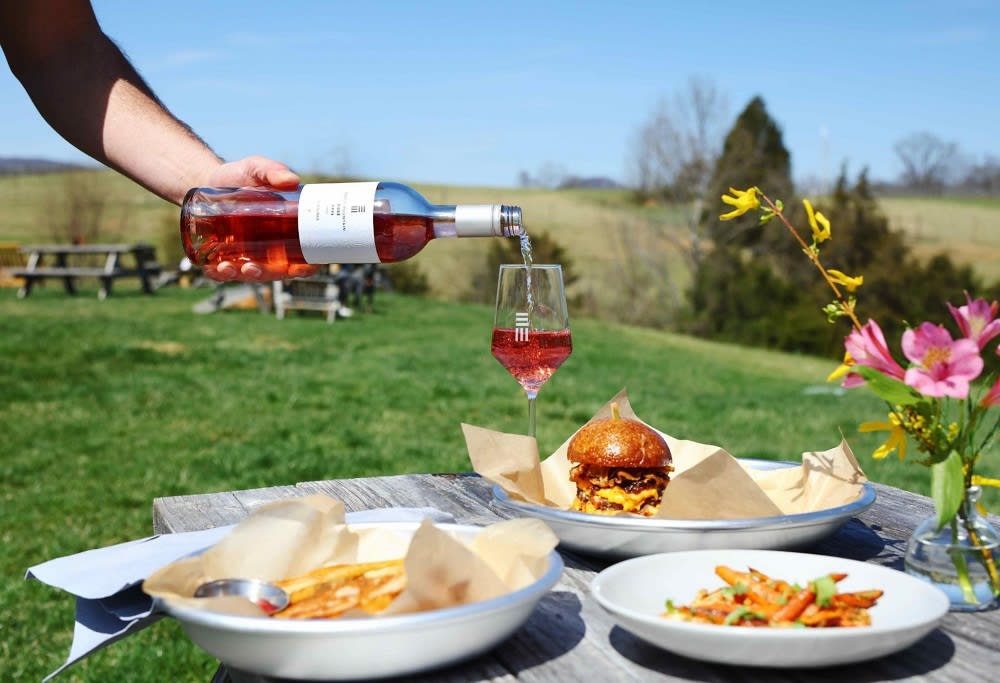 Photo courtesy of Early Mountain Winery
Early Mountain Winery
produces excellent and accessible delicate wines. They combine real grit and creativity to produce their bottles. For delicious Early Mountain estate wines and a hand-picked assortment of the greatest varietals throughout the state of Virginia, stop by their acclaimed tasting room. They also offer meals created with care by their culinary staff that include Virginia's finest wines, artisanal cheeses, and charcuterie, as well as the best seasonal fruit from nearby farms. Stop by for a delicious wine tasting and culinary experience in their Wine Library. Your tasting will feature five wines, one of which will be a special library pick or undiscovered treasure. It'll also include a pair of appetizers Chef Tim Moore specially made for the wines.
Potomac Point Winery
Photo courtesy of Potomac Point Winery
One of Northern Virginia's premier wineries is
Potomac Point Winery
. Their European estate will make you think you've arrived in Tuscany, and their award-winning wines and mouthwatering food will boost the ante. Potomac Point Vineyard and Winery is a memorable location with a variety of wine tastings and flights and a full café.
To use their on-site amenities, reservations are necessary. Otherwise, you may swing by their tasting room any time it's open if you just want to pick up some wine to go. At the bar in their lovely tasting room, take part in a guided wine tasting. Choose from two separate tastings, each of which includes eight different one-ounce wine pours. Your wine server will lead you through an educated tasting while sharing behind-the-scenes tales and specifics about their winemaking processes. It's advised you make a reservation for a bistro to go along with your sampling bar experience.
Pearmund Cellars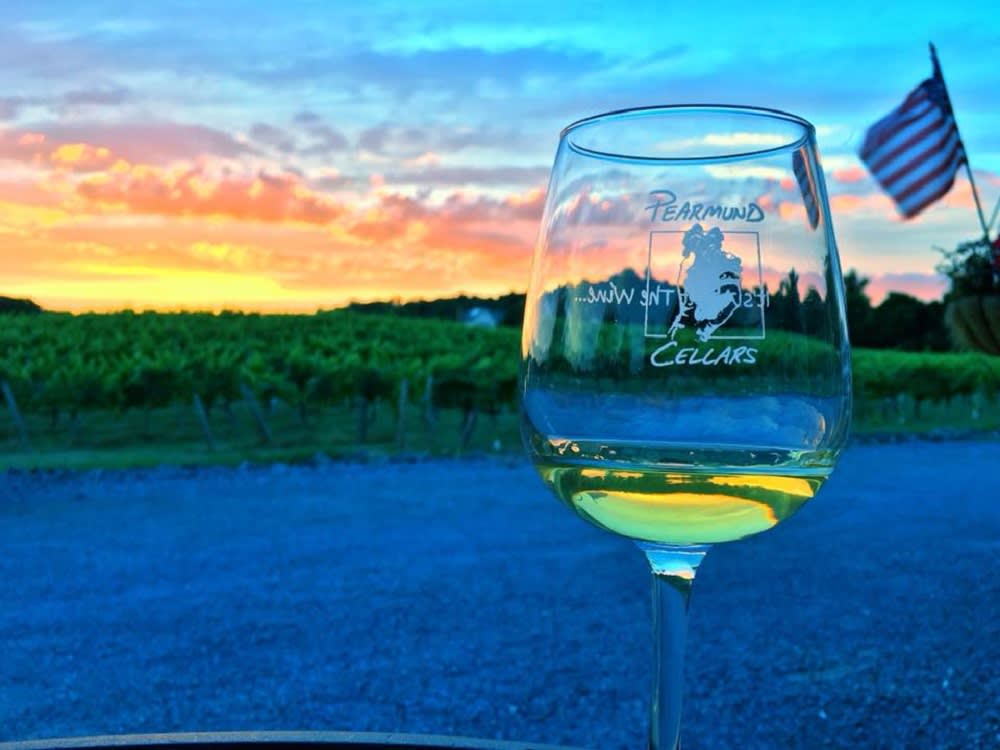 Photo courtesy of Pearmund Cellars
Pearmund Cellars
is conveniently located in Northern Virginia and Washington, D.C, and is surrounded by stunning foothills in Eastern Fauquier County, Virginia. Using fruit cultivated in Virginia, including Viognier, Petit Manseng, Cabernet Franc, and Petit Verdot, they produce the greatest Virginia wine while giving visitors an experience to take home and enjoy.
There's an emphasis on fun, education, and experience. The 15-acre Meriwether Vineyard, Virginia's first Chardonnay vineyard, is situated around this winery. Each time you visit, you'll discover new ways to experience their wines by the glass or bottle. They offer seating in a variety of arrangements, styles, and sizes, so you and your party will feel accommodated. Although walk-in customers are always welcome, reservations are offered for those who are well-informed about what they want.
Search for Leesburg, VA homes for sale
If you want to learn more about the best places for wine tastings in Northern Virginia or about
homes for sale in Northern Virginia
cities such as Fairfax, Arlington, Leesburg, and more, please don't hesitate to reach out to realtor
Michael Sheridan
for expert guidance every step of the way.